Professional Pest Solutions For Gilbert, AZ
Here at Canopy Pest Control, we know a thing or two about pest control because we're just like the rest of you. Our homes and our business facilities are important to us, and there's nothing we take more pride in than protecting our customers as we would our own family.
When invading pests threaten your home or business, dealing with problems as they pop up can lead to stress, health issues, home damage, and money down the drain. Instead of wasting your time, get the peace of mind that comes with being protected by our highly qualified and experienced pest professionals, always backed by our price-match guarantee.
Residential Pest Control In Gilbert, AZ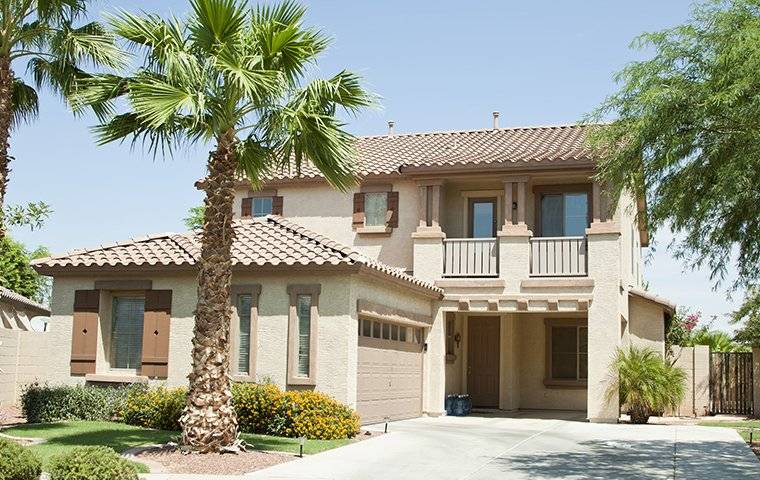 As a homeowner, you might love the fact that Gilbert's weather allows you to enjoy time in the yard or on your outdoor deck all year long, but it also provides the perfect environment for year-round pest infestations. We understand the pests most likely to invade your home and therefore, our general maintenance plan covers scorpions, cockroaches, ants, earwigs, silverfish, mice, and other common unwanted pests.
After our initial inspection, we will create a customized plan that treats your home monthly, bimonthly, or quarterly depending on your needs. We treat the interior of your home, your yard, and your garage to ensure that pests are eradicated from your property. Then, we implement the necessary measures to prevent them from returning in the future.
If you try dealing with all of these pests and others on your own, your efforts are not just likely to fail, they're likely to make things worse. Instead of allowing the headaches, health hazards, and home damage to continue, call the pest control company that can guarantee a home free of pests at the lowest price in town. Call Canopy Pest Control.
Commercial Pest Control In Gilbert, AZ
When you run a business of any kind, pest prevention needs to be at the top of your to-do list. There are simply too many pests who would love to make a home among your inventory, make a meal out of your stored food, or make a hunting ground out of the low-traffic areas in your business. Once a health inspector or a customer notices, it will negatively impact your reputation as well as your income.
Unfortunately, the last thing you have time to worry about is trying to keep pests out of your facility yourself. That's why Canopy Pest Control offers the best commercial pest control in the area. Since we're a local business, we take care of our local businesses, which is why we offer our professional services with a satisfaction guarantee and a price match promise. You'll know for a fact that your facility will remain pest free, even in between our monthly treatments. You'll also know for a fact that you're getting the best deal, so give us a call today to get your business under the Canopy.
Three Problems Cockroaches Cause In Gilbert, AZ
If you've looked hard enough around your Gilbert home or business, you've probably seen a cockroach at some point. They're one of the most common property invading pests on the planet, but there's nothing common about the hazards they'll bring into your home or business. Here are three of the biggest issues that roaches will bring to your Gilbert property:
1. Health hazards: since roaches usually spend time in sewers and landfills searching for food, they'll bring dangerous bacteria into your home or business, putting you, your family, or your customers at risk of harmful diseases.

2. Stored food contamination: roaches have a knack for finding your stored food and squeezing their flexible bodies into places they aren't supposed to get into. They'll contaminate your stored foods quickly and overrun your pantry if they are allowed into your house.

3. Eradication difficulties: since they're afraid of humans, you'll hardly ever understand how big a roach infestation is within your walls. If you never realize you have such a significant roach problem, you might not ever get the professional eradication treatments you need.
Even if you just see one roach within your home, it could be a sign of infestation. To get roaches out and keep them out for good, give us a call and find out about Canopy Pest Control's custom roach solutions.
Did You Know Termite Damage In Gilbert, AZ Can Be Avoided?
Everyone knows that termites can do a lot of damage to your Gilbert property, but many people don't understand that there are a few different ways to avoid expensive termite damage. In fact, a majority of termite damage occurs because homeowners don't understand what to look for to spot a termite infestation before the damage becomes severe. If you can spot a termite infestation before 18 months has passed, you could avoid expensive repairs.
Be on the lookout for signs of termite activity, such as:
Mud tubes on the inside of foundation walls
Visible damage to exposed wood
Shed wings of flying termites
Tightening around doors and windows
If you don't have any of these signs, then your focus can shift to prevention. The best way to limit termite attraction is to control moisture buildup that will attract them to rotting wood and moist soil in the yard. The best moisture management practices include monitoring pipes for leaks, installing dehumidifiers in poorly ventilated areas, having well-functioning gutters and downspouts on the roof, and proper lawn maintenance.
It's important to note that nothing you can do on your own provides guaranteed protection against termites. If you want the assurance that your investment is safe, call Canopy Pest Control to start protecting your equity with guaranteed termite prevention today.
Request Your Free Inspection
Complete the form below to schedule your no obligation inspection.