Termite Management Services For Your Queen Creek, AZ Property
Even though Arizona has a dry climate, we still have more than our fair share of moisture-loving termites. Subterranean termites are the most common and most destructive species of termites, mostly because their favorite food is moist or rotting wood. Since they can cause over $3,000 in damage in 18 months (which is much faster than other species of termites), having the proper prevention strategies in place is a necessity.
If you're concerned about termites in your Queen Creek house or you're fearful of incurring a future infestation (and the costly damages that will ensue), find out more about how Canopy Pest Control's custom termite solutions could potentially save you thousands of dollars.
Our Termite Service Process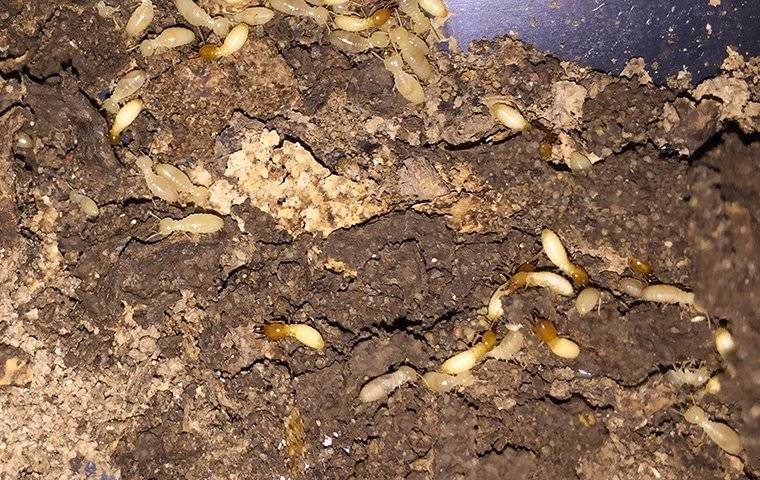 Inspection
Once you make contact with us, a professional service technician will be at your home at your earliest convenience. They'll use their years of experience dealing with local termites to locate a current infestation or anything that could attract a future infestation. If you're fortunate enough to not have an existing infestation, they'll suggest the best ways to limit moisture buildup on your property to reduce your chances of attracting subterranean termites.
Prevention & Treatments
After the service technician has inspected your property, they'll work with your specific needs and budget to create a customized termite eradication or prevention plan for your property. By using the best eco-friendly pesticides the industry has to offer, we can safely create a protective barrier around your home to deter termites.
To double up on the pest protection for your home or business, our technician will also place termite traps in specific areas of the yard to steer invading termites away from your property's foundation. These procedures are safe for pets and anyone else playing in the yard while also being minimally invasive. You'll hardly notice any disruption in your yard or landscaping.
Get Termites Under Control With Canopy Pest Control
When your home has been cared for by Canopy Pest Control's professional termite services, you can rest assured that your home is protected by our satisfaction guarantee. You won't need to worry about listening inside the walls for clicks that indicate termite activity, and you won't drive yourself crazy trying to check every pipe for a leak that could lead to wood rot and a termite infestation.
Instead, you'll have the peace of mind of knowing that the roof over your head (and the foundation it's sitting on) are all protected under the highest quality pest control canopy in the area. Give us a call today to find out about our price-match guarantee that gets you the best termite services around for the best prices in pest prevention in the Queen Creek, AZ area.
Request Your Free Inspection
Complete the form below to schedule your no obligation inspection.