Trustworthy Pest Solutions For San Tan Valley, AZ
If you're a home or business owner in San Tan Valley, you know that our weather is a double-edged sword. While we love the mild winters that come with the climate, having to deal with pest issues all year long is an undesirable and inevitable side effect. Unfortunately, if you're dealing with pest issues on a case by case basis, you're going to be rolling your stone uphill 12 months out of the year. However, joining the hundreds of happy home and business owners who find protection under Canopy Pest Control's professional services can help you make pest issues a thing of the past.
Residential Pest Control In San Tan Valley, AZ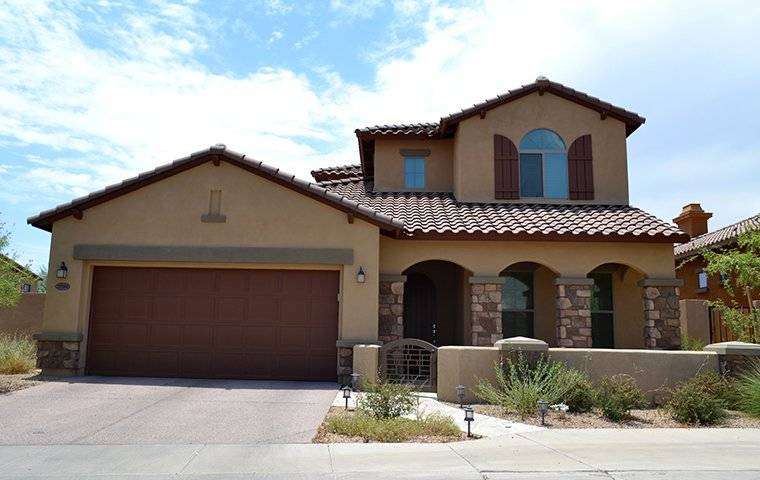 When you have to deal with pest issues in your home, it begins to feel less like home by the day. A house becomes a home when it's your safe haven, the place that brings comfort after a long, stressful day. However, coming home to pests trying to damage your home is not only stressful, but it also poses health risks to you, your family members, and your pets.
If you're worried about a pest infestation, reach out to our professionals at Canopy Pest Control. We will inspect your property and come up with a monthly, bimonthly, or quarterly treatment plan depending on your unique pest control needs. We will work with you every step of the way so that you understand the extent of your pest problem and how we're treating your property to ensure that unwanted pests don't return. Whether you're dealing with mice, cockroaches, ants, scorpions, or other unwanted pests, our experts have the solutions you need.
At Canopy Pest Control, we treat our customers like family. As a local family ourselves, we understand how stressful the San Tan Valley pests can be, which is why we provide the most effective organic pesticides that are guaranteed to keep pests out of your home without putting your children or pets at risk. Give us a call today to find out more about how you can enjoy comfort and peace of mind with home pest control from Canopy Pest Control.
Commercial Pest Control In San Tan Valley, AZ
As a business owner in San Tan Valley, you understand the importance of maintaining a positive reputation within the community. Canopy Pest Control understands the local businesses because we are a local business. When we tell you that we treat our customers like family, we mean that. We not only put the safety of your employees and customers first, but we also put our reputation on the line when protecting yours.
Unfortunately, all it takes is one pest incident in front of a customer or health inspector to put your profits in jeopardy. That's why our commercial pest prevention methods are the only thing that can provide the assurance you need with so much at stake. We understand that all businesses, buildings, and pest problems are different which is why we offer customized solutions to fit your needs. We begin by inspecting your property and then our team of licensed technicians creates a plan that works for your space, your pest problem, and your budget. Give us a call today to find out how Canopy Pest Control can keep your facility pest-free, no matter what kind of business you're running.
Are Black Widow Spiders In San Tan Valley, AZ Dangerous?
While most of the local spiders (which are plentiful) have fangs and venom, only two types of spiders are actually dangerous to humans: the brown recluse and the black widow spider. Both of these are rare, but you're more likely to have black widow problems on your San Tan Valley property, so identification and prevention are a must.
There could be three or four kinds of black spiders on your property, but you can tell the black widow apart by its bulbous abdomen, which includes the red hourglass marking. These spiders are usually the size of a nickel with long outstretched legs. They're probably hanging around your property in search of their primary source of food - other insects. Building messy webs in low-traffic areas like behind yard debris or amongst the clutter in the basement, black widows will wait for their prey to walk into their web before incapacitating it with their venom.
Black widow bites are rarely fatal, but they always require medical attention. Without immediate assistance, these painful bites will swell and lead to nausea, cramping, dizziness, and trouble breathing. Wearing gloves while doing yard work or reaching into potential black widow hideouts can help reduce your chances of a bite, but keeping them off of your property yourself is going to be difficult. Only the professional pest prevention services of Canopy Pest Control can assist by limiting pest infestations that will attract black widow spiders onto your property. Give us a call today to schedule a consultation, and reduce your risk of a dangerous black widow infestation.
Guide To Avoiding Termite Problems In San Tan Valley, AZ
A majority of the termite damage in the San Tan Valley is caused by subterranean termites. Unfortunately, this species is not only the most common, but it's the most destructive as well. If you let more than 18 months go by before detecting a subterranean termite infestation, you could be on the hook for more than $3,000 worth of damage. However, even though it can be hard to spot the termites eating your home from the inside out, you might notice a few signs of a termite problem including:
Mud tubes on the exterior of your home, particularly along the foundation
Shed wings of flying termites
Tightening around doors and windows
Clicking noises in the walls
Damage to visible wood
Unfortunately, these signs likely indicate a mature infestation. To keep termites off of your property in the first place, it's important to be proactive. Since subterranean termites prefer to feed on moist, rotting wood, creating a less desirable habitat for them stems from your ability to prevent moisture problems. Some moisture management tips include using dehumidifiers in poorly ventilated areas, maintaining your lawn regularly, monitoring your pipes for leaks, and using a gutter and downspout combination to expel rain runoff away from your house.
Our final tip is to remember that nothing you can do on your own, even exceptional moisture management, will ever provide guaranteed protection against termites. For termite protection in San Tan Valley, call Canopy Pest Control today to schedule a consultation.
Request Your Free Inspection
Complete the form below to schedule your no obligation inspection.