Keeping Oriental Cockroaches Away From Your Queen Creek Home
April 15, 2022
Oriental cockroaches in Queen Creek are an unsightly pest to come across due to their larger size and reputation as being highly unhygienic. To understand how to keep cockroaches away and tackle a cockroach infestation, you should be reaching out to professional pest control in Queen Creek for expert advice.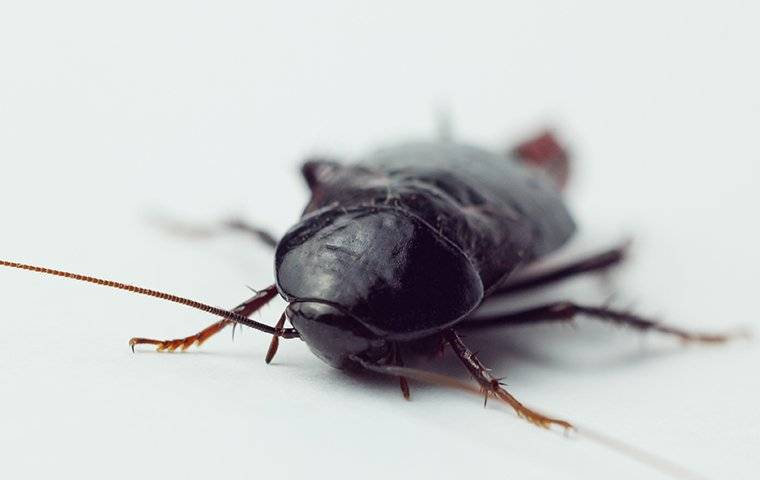 What Do Oriental Cockroaches Look Like?
The oriental cockroach is one of the larger cockroach species out there – this is part of why a cockroach infestation with this pest can be so unsightly. The oriental cockroach grows to approximately an inch in length and has a wide oval body with wings. Oriental cockroaches in Queen Creek will be dark brown or black and shiny in color, and they prefer to live in cool, damp locations. You are most likely to find oriental cockroaches hiding out in basements, cellars, and bathrooms in your home.
Why Are Oriental Cockroaches Dangerous?
While many people want to stay far away from oriental cockroaches simply because of their appearance, few understand exactly how dangerous this pest is. Oriental cockroaches are known for walking through highly unsanitary areas such as sewers, around dumpsters, and through organic waste. The bacteria and pathogens that they pick up in these areas will then be tracked through the surfaces of your home and into food storage areas once this pest invades. Over time, this can increase your risk of acquiring one of the following potentially serious illnesses:
Food Poisoning
Dysentery
Diarrhea
Salmonella
Listeriosis
Cholera
You should also note that the droppings and shed skins of oriental cockroaches can trigger allergies, asthma attacks, or respiratory issues. Investing in a cockroach exterminator in Queen Creek is best to avoid these major health risks.
Why Is It So Hard To Get Rid Of Oriental Roaches In Homes?
Getting rid of oriental cockroaches can be exasperating because of their highly prolific nature and skill at hiding in hard-to-reach areas. DIY cockroach control products likely won't help, as these products don't target the root source of oriental roaches. They may reduce the infestation population, but the problem will always return unless you eliminate every single roach.
If you want to know how to keep cockroaches away for good, you should skip home remedies and DIY cockroach control products and contact professional cockroach pest control in Queen Creek.
The Secret To Effective Cockroach Control In Queen Creek
If you find yourself battling oriental cockroaches, your first step should be to reach out to a professional cockroach exterminator in Queen Creek. Our experts at Canopy Pest Control are highly trained and ready to help you eliminate your oriental cockroach problem, no matter how widespread the infestation is.
Our specialists at Canopy Pest Control will provide your property with a thorough inspection that determines the areas where the pests are most commonly infiltrating and look for signs that will determine the severity of your roach infestation. Once they have all the necessary information, our professionals at Canopy Pest Control will create effective, eco-friendly treatment plans that ensure your oriental cockroach problem is taken care of permanently. Additionally, follow-up inspections will keep your property protected year-round.
Reach out to professional cockroach pest control in Queen Creek and let Canopy Pest Control remove your pest problem entirely.