Giant Hairy Scorpions in Queen Creek: What You Should Know
November 30, 2021
Giant Hairy Scorpions can be a serious problem for those living in Queen Creek. It is important to understand these insects to avoid any negative encounters with them.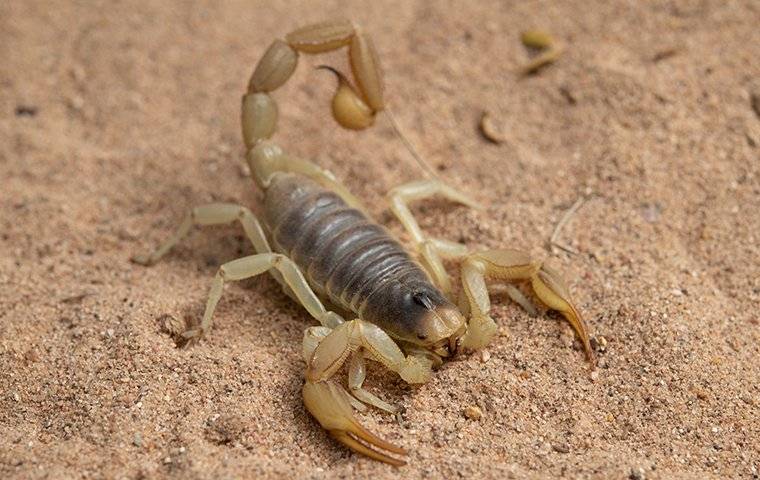 Understanding Giant Hairy Scorpions
While the giant hairy scorpion is not the most commonly spotted scorpion in Queen Creek, it is the largest scorpion variety in Arizona. This scorpion can grow to be seven inches long, though most will stay around five to five and a half inches long. The giant hairy scorpion has a yellowish body with a darker tail and brown hairs that cover its body. Thanks to its size, this scorpion can eat other scorpions, snakes, and lizards.
The sting of a giant hairy scorpion is not as dangerous as other scorpion species, but it can still be very painful. Many liken this scorpion's sting to that of a bee or wasp in that it can hurt but isn't particularly deadly unless you have an allergy to insect stings. If you start experiencing difficulty breathing or other symptoms of anaphylaxis after being stung by a scorpion, seek medical attention immediately.
The giant hairy scorpion prefers to live under rocks and debris in the desert. They may be found in crawl spaces or attics in your home, though they have been found in bathtubs, sinks, and outdoor patios.
Scorpion Prevention Tips
There are several scorpion prevention tips that you can engage in to deter giant hairy scorpions, and all scorpions in Queen Creek, from entering your property:
Most scorpions will enter your home in the pursuit of food, including other scorpions, spiders, and beetles. Reducing pest prey around your property and inside your home will help deter scorpions from also moving in.
Moisture is a major attraction for scorpions, so you should do your best to fix any leaks or freestanding areas of water. Also, make sure that basements and bathrooms have proper ventilation and don't accumulate moisture, as this will encourage all manners of insects and scorpions to enter your home.
Clear your yard of excess clutter and debris. Large spots of vegetation or hidden areas under bushes and rocks are favorite places for scorpions to hide out.
Removing them and keeping your grass trimmed low reduces their hiding spots.
Ensure that all food and trash is properly stored both inside and outside of your home. The aroma of food is what attracts most pests to your property. You should also be sure to clean up any food spills around your home as soon as possible.
Clean your home regularly, focusing on spaces such as attics, basements, garages, and kitchens. Make sure to sweep under heavy appliances and clear away all clutter, as this reduces the hiding spaces available for scorpions and other pests.
Seal up any cracks or gaps in windows, doors, or your home's foundation. Scorpions can enter your home through tiny holes, so be thorough when filling in potential entry points. You may also want to fix up the broken window and door screens or worn-out weather stripping.
Professional Scorpion Removal Assistance
The best way to keep scorpions away from your property is by investing in professional assistance. The experts at Canopy Pest Control will be able to keep your home free of pests with eco-friendly products, convenient scheduling, and free inspection. Let us provide you with peace of mind.